Life in La Crescenta
If you're drawn to LA but don't want to give up access to the outdoors, or if you're drawn to the outdoors but don't want to give up access to LA, the little best-of-both-worlds neighborhood of La Crescenta just may be your dream come true. Nestled up against the borders of Angeles National Forest and Deukmjian Wilderness Area, La Crescenta is a little bit rural, a little bit suburban, a little bit big city and a lot more affordable than you'd expect. You won't necessarily find hip nightclubs, bright lights, or bougie hilltop mansions - you may not even find sidewalks on some of the tucked-away cul-de-sacs - but La Crescenta offers a tight-knit community, excellent schools, and all the fresh mountain air your lungs can handle.
La Crescenta at a Glance
With a population of roughly 20,000 spread across 3.5 miles, La Crescenta is technically part of both Los Angeles and Glendale. In 1952, Los Angeles annexed a significant amount of the region, but a portion - Crescenta Highlands ­- was annexed by Glendale. In other words, La Crescenta is so desirable that two different cities have laid claim to it!
While La Crescenta and the surrounding region were originally popular for the high quality of its soil and served as agricultural centers, the post-WWII economic boom inspired many families to buy plots of land and cozy ranch-style homes. La Crescenta's "small town community" vibe is a point of pride for the residents; that feeling is never more evident than the annual 4th of July Fireworks show, which draws neighbors from every avenue and boulevard to share in the celebration.
La Crescenta Table Search
28 Properties
Address
Beds
Baths
Sq.Ft.
Price(%Chng)
$/Sq.Ft.
On Site
2313 Rosecrest Dr #3
Glendale, CA 91208
2
1
1,004
$685,000
$682.27
1 day
2915 Montrose Ave #428
Glendale, CA 91214
1
1
779
$489,000
$627.73
3 days
4812 Ramsdell Ave
La Crescenta, CA 91214
4
3
2,376
$1,490,000
$627.10
3 days
2395 Mayfield Ave
Montrose, CA 91020
5
3
2,059
$1,000,000
$485.67
5 days
3422 Encinal Ave
Glendale, CA 91214
2
1
1,126
$899,000
$798.40
6 days
2304 Pickens Canyon Rd
La Crescenta, CA 91214
3
2
1,977
$1,789,000
$904.91
8 days
2619 Fairway Ave
Montrose, CA 91020
3
2
1,626
$995,000
$611.93
9 days
4718 La Crescenta Ave
La Crescenta, CA 91214
3
2
1,646
$1,295,000
$786.76
9 days
3448 Sierra Vista Ave
Glendale, CA 91208
2
1
1,083
$1,150,000
$1,061.87
10 days
3011 Frances Ave
La Crescenta, CA 91214
8
7
6,220
$4,350,000
$699.36
10 days
5219 La Crescenta Ave
La Crescenta, CA 91214
3
2
1,799
$1,549,998
$861.59
12 days
4230 Boston Ave
Glendale, CA 91214
3
3
2,457
$1,498,000
$609.69
13 days
3524 Community Ave
Glendale, CA 91214
3
2
1,717
$995,000
$579.50
15 days
1980 El Arbolita Dr
Glendale, CA 91208
3
2
2,063
$1,579,000

-1.3%

$765.39
34 days
2132 Waltonia Dr
Montrose, CA 91020
2
2
1,100
$995,000
$904.55
41 days
3016 Henrietta Ave
La Crescenta, CA 91214
3
2
1,216
$1,076,000
$884.87
46 days
2320 Panorama Dr
La Crescenta, CA 91214
3
2
1,497
$1,640,000
$1,095.52
54 days
3947 Markridge Rd
La Crescenta, CA 91214
5
5
--
$8,800,000
--
58 days
2743 Pinelawn Dr
La Crescenta, CA 91214
3
3
1,630
$2,250,000
$1,380.37
59 days
2737 Montrose Ave #103
Montrose, CA 91020
2
2
860
$664,000

-0.7%

$772.09
62 days
3117 Harmony Place
La Crescenta, CA 91214
3
3
1,709
$1,399,000

0.3%

$818.61
67 days
3843 4th Ave
Glendale, CA 91214
4
3
2,418
$1,395,000
$576.92
95 days
2706 Honolulu Ave #303
Montrose, CA 91020
2
2
953
$699,000

-2.9%

$733.47
108 days
2937 Frances Ave
La Crescenta, CA 91214
4
3
1,995
$1,250,000
$626.57
110 days
3732 2nd Ave
Glendale, CA 91214
2
1
598
$698,000
$1,167.22
112 days
3612 1st Ave
Glendale, CA 91214
2
1
848
$866,000

-2.4%

$1,021.23
150 days
3021 Manhattan Ave
La Crescenta, CA 91214
2
2
910
$885,000

-11.5%

$972.53
155 days
3837 El Caminito
Glendale, CA 91214
2
2
1,848
$1,950,000

7.1%

$1,055.19
157 days
Cost of Living
With a range of home values, La Crescenta is home to young families just getting started as well as established professionals. Newcomers escaping the cost and crowds of LA live right next to people who can trace several generations back to the same block. The median home value in La Crescenta is around $1,100,000, with rents averaging around $3,100.
Commute
The 118 Freeway makes commuting from La Crescenta easy - you can drive to Burbank in about a half-hour, downtown LA in less than an hour, and Century City or Santa Monica in an hour or two depending on traffic. Public transit is a little more scarce, however, and will double your commute time to Burbank or LA.

What Draws People to La Crescenta?
La Crescenta calls itself "The Balcony of Southern California", and for good reason - the neighborhood is tucked up against two mountain ranges, but still offers warm sea breezes and views of the Pacific. Many people moving to La Crescenta do so because of its nearly unparalleled proximity to some of the region's most beautiful outdoor areas. Angeles National Forest covers over 700,000 acres of beautifully preserved forest and two different mountain ranges - the San Gabriels and the Sierra Pelonas. With 53 trailheads, 3 OHV areas, 2 ski areas and 21 mountain peaks to climb and explore, it's one heck of a backyard. As if that weren't enough, the Deukmjian Wilderness Area encompasses 700 acres of rugged yet approachable scrub and woodlands. Entrance is free, dogs are allowed, and it's not unusual to find yourself wonderfully alone, as the area is something of a hidden gem only frequented by outdoor enthusiasts. Living in LA means warm, sunny weather all year round, and few neighborhoods give you as many chances to take advantage of that.
La Crescenta is especially appealing to parents who want to ensure their children get a high-quality education. La Crescenta schools outshine many of the schools in their district, Glendale Unified - and, given that Glendale's schools are generally well-ranked, that's saying something. From one of the five coveted elementary schools to Rosemont Middle School to Crescenta Valley High School, students in La Crescenta have a clear path to higher education.
Food + Drink
La Crescenta offers a little bit of everything, food-wise, with plenty of options for every diet. Local favorites Tickle Tree Café and Jeremy's Restaurant offer classic American dining, while El Sol serves up Mexican food in a space dripping with atmosphere. Sushi, Korean BBQ, Lebanese, Vietnamese and Mediterranean restaurants populate the neighborhood - vegans, vegetarians, and omnivores alike will have no problem finding their new go-to date night spot. After you can catch live music at The Roar Room, the local "dive" - a term of endearment more than a judgment of cleanliness. Locals can also be seen playing pool at Up Th' Hill.
What La Crescenta lacks in nightlife, it makes up for in shopping: the nearby Montrose Shopping Park is designed to delight, with wide, walkable streets hosting name-brand stores alongside locally-owned boutiques like Montrose Candy Co. and Tom's Toys. On Sundays, you can find fresh produce and artisan goods for sale at the Harvest Market and Marketplace. The quiet nights, far from the city lights and noise, make it that much easier to rise and shine in the mornings!
For a lot of folks in LA, "suburb" is a four-letter word. But for the residents of La Crescenta, it's synonymous with friendly neighbors, community care, and comfortable living. Whether you're looking for a starter home or a second home, La Crescenta has something perfect for you.
Local Landmarks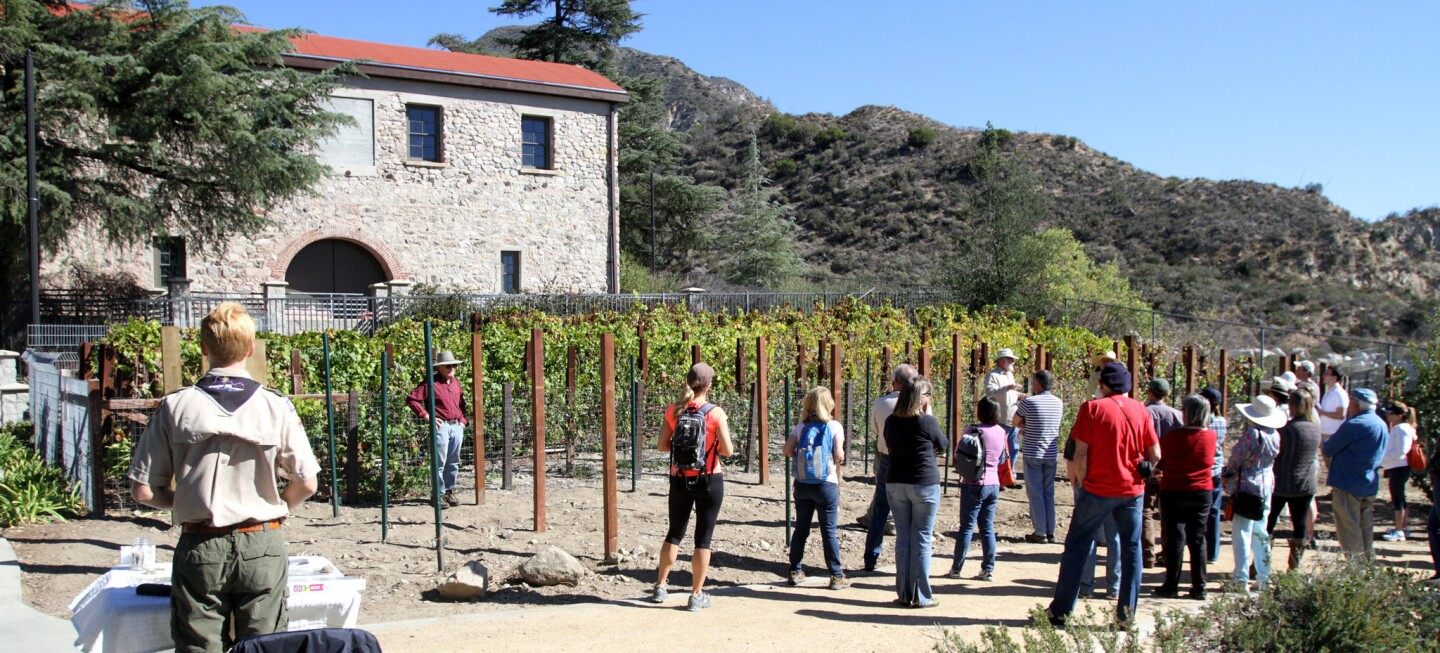 The Le Mesnager Barn, built by French winemakers in 1905, is a two-story stone barn that's survived fires and floods to remain a community mainstay. It is still being used for its original purpose - now run and maintained by the Stone Barn Vineyard Conservancy, 81 grapevines thrive on the property. Its neighboring amphitheater hosts community events, and wine tastings at Le Mesnager Barn are popular events all year round for winemakers and wine-lovers alike. Architecture nerds will also love visiting St. Luke's of the Mountains Episcopal Church, built in 1924 by Seymour Thomas. Like Le Mesnager Barn, St. Luke's is entirely composed of stone, with an interior as beautiful as its exterior. And, while it's no longer operational, you can still snap a picture of the famous La Crescenta Motel; formerly the May Lane Motel, this 1940's motel was used as a set for shows and movies like Mad Men, X-Files, Glee and Win a Date with Tad Hamilton. Selected for its Anytown, USA ambiance, the motel's retro sign remains standing.
Let's chat about La Crescenta Real Estate.