Life in Burbank
Ask a Californian to spend a day in Burbank and they might assume you want them to attend a live taping of The Big Bang Theory, a Warner Bros. studio tour, or choose between a BRIMNES or NORDLI headboard from IKEA. And, let's be real, those all sound kind of awesome. But Burbank is much more than just movie-lot golf carts and long-term parking at the airport; it's a retro-futurist oasis, with one foot planted firmly in vintage vibes while the other foot keeps moving forward. You don't have to do much digging to discover Burbank's quirky sides: from rockabilly to comic books to silent film memorabilia to biking to goth decor, whatever you nerd out about has a home in Burbank. And if that inspires you to make your own home in Burbank, read on for all the need-to-know details about the neighborhood!
Burbank at a Glance
With roughly 100,000 residents spread across 17 miles, Burbank sits just above Hollywood with Griffith Park to its south and Glendale to the east. It's a highly desirable neighborhood, with a livability score of 72 out of 100, according to AreaVibes. While it attracts its fair share of young professionals who are interested in the nightlife and the proximity to entertainment industry gigs, it's also a popular destination for families, with the public schools held in high regard and as many family-friendly activities as cocktail bars.
Many of the homes you'll see in Burbank are single-family, mid-century homes in great condition. Home values range from $400,000 to $4 million depending on size and location. The average rent for a studio or 1-bedroom is around $1,700, with 2-bedroom apartments going for around $2,375. Luckily, jobs in Burbank typically pay more than the national average. While more than half of the neighborhood's biggest employers are media or entertainment industry companies, there are job opportunities in education, medicine, and tech.
Most residents in Burbank don't have to travel far for work: the average commute time is 30 minutes one-way. Getting to downtown L.A. takes around 45 minutes by car, or an hour on public transportation; you can drive to Santa Monica or Century City in less than an hour in great traffic conditions, but generally commutes of that distance take closer to 75 minutes. Taking public transportation will double that time. There is a dedicated Burbank bus line, BurbankBus, offering round-the-clock serving along three routes, METRO rail service, and Metrolink stops at the airport. The city also offers a municipal rideshare service known as Metro Micro.
Due to its location in the San Fernando Valley, Burbank gets a bit hotter than some other L.A. neighborhoods, with the occasional triple-degree day in the summer. The average temperatures, however, are pleasant - lots of warm, sunny days. Burbank offers lots of ways to enjoy those perfect days: among the most popular are George Izay Park, Wildwood Canyon Park and Stough Canyon Nature Center. The Chandler Bikeway is a popular three-mile walking and biking trail that follows a defunct railway line. Burbank is also a destination for horseback riding, with the Los Angeles Equestrian Center located in Brace Canyon Park.
Burbank Home Search
60 Properties
Address
Beds
Baths
Sq.Ft.
Price(%Chng)
$/Sq.Ft.
On Site
114 S Lamer St
Burbank, CA 91506
5
4
2,289
$1,650,000
$720.84
2 days
1214 N Catalina St
Burbank, CA 91505
3
2
1,540
$1,249,000
$811.04
2 days
820 N Parish Place
Burbank, CA 91506
3
2
1,584
$1,249,000
$788.51
2 days
2121 Scott Rd #105
Burbank, CA 91504
2
2
1,340
$620,000
$462.69
3 days
825 Brown Dr
Burbank, CA 91504
4
3
2,464
$1,549,750
$628.96
3 days
200 S Sunset Canyon Dr
Burbank, CA 91501
4
4
2,400
$2,499,000
$1,041.25
3 days
9532 Via Ricardo
Burbank, CA 91504
2
3
1,244
$695,000
$558.68
4 days
120 N Myers St #J
Burbank, CA 91506
2
2
940
$599,990
$638.29
4 days
2145 N Kenwood St
Burbank, CA 91505
3
1
1,326
$1,000,000
$754.15
4 days
1046 Screenland
Burbank, CA 91505
3
2
1,544
$979,000
$634.07
5 days
609 E Palm Ave #302
Burbank, CA 91501
2
2
1,228
$749,000
$609.93
6 days
1235 N Catalina St
Burbank, CA 91505
3
2
1,695
$1,299,000
$766.37
9 days
843 Birmingham Rd
Burbank, CA 91504
4
2
2,221
$1,359,000

-8.5%

$611.89
10 days
500 E Valencia Ave #103
Burbank, CA 91501
3
4
1,770
$899,998
$508.47
10 days
350 N Niagara St
Burbank, CA 91505
3
2
1,579
$1,399,000
$886.00
10 days
730 Tufts Ave
Burbank, CA 91504
3
2
1,515
$1,250,000
$825.08
10 days
408 Delaware Rd
Burbank, CA 91504
3
3
2,341
$1,648,000
$703.97
10 days
1220 N Hollywood Way
Burbank, CA 91505
2
1
939
$749,990
$798.71
12 days
1709 N Buena Vista St
Burbank, CA 91505
3
2
1,708
$973,399
$569.91
12 days
230 Bethany Rd #206
Burbank, CA 91504
2
2
1,226
$669,000
$545.68
18 days
700 Price Dr
Burbank, CA 91504
4
3
2,239
$1,499,000
$669.50
18 days
715 S Lake St
Burbank, CA 91502
2
1
1,273
$1,299,000
$1,020.42
20 days
820 E Valencia Ave
Burbank, CA 91501
4
4
3,110
$2,300,000
$739.55
23 days
230 Bethany Rd #203
Burbank, CA 91504
2
2
1,043
$625,000
$599.23
24 days
1518 N Pass Ave
Burbank, CA 91505
3
3
2,141
$1,150,000
$537.13
24 days
1115 Scott Rd
Burbank, CA 91504
3
2
1,300
$1,100,000
$846.15
24 days
1116 N Kenwood St
Burbank, CA 91505
4
3
2,435
$1,849,000
$759.34
25 days
1275 Paseo Redondo
Burbank, CA 91501
3
2
1,260
$1,650,000
$1,309.52
32 days
1200 S Chavez St
Burbank, CA 91506
3
2
1,810
$1,650,000
$911.60
33 days
569 Tujunga #D
Burbank, CA 91501
2
3
--
$702,000
--
40 days
3025 W Valley Heart Dr
Burbank, CA 91505
3
3
1,760
$1,385,000

-2.8%

$786.93
53 days
610 N Lincoln St
Burbank, CA 91506
3
2
1,235
$1,290,000

-4.4%

$1,044.53
59 days
2203 N Keystone St
Burbank, CA 91504
3
1
1,104
$899,000
$814.31
62 days
4140 Warner Blvd #302
Burbank, CA 91505
2
2
994
$699,900

-2.1%

$704.12
62 days
1444 N Ontario St
Burbank, CA 91505
3
2
1,480
$1,114,000

-2.7%

$752.70
65 days
505 Dartmouth Rd
Burbank, CA 91504
3
2
2,270
$1,499,000

-16.7%

$660.35
69 days
565 E San Jose Ave #204
Burbank, CA 91501
2
3
1,317
$755,000

-1.8%

$573.27
72 days
725 S Mariposa St
Burbank, CA 91506
4
3
2,600
$3,000,000
$1,153.85
72 days
924 E Fairmount Rd
Burbank, CA 91501
4
3
2,167
$1,725,000

-4.1%

$796.03
73 days
4132 W Franklin Ave
Burbank, CA 91505
3
3
1,899
$1,428,000

-10.2%

$751.97
74 days
2244 N Dymond St
Burbank, CA 91505
3
2
1,511
$999,999

-7%

$661.81
76 days
2237 N Orchard Dr
Burbank, CA 91504
4
7
4,220
$2,300,000
$545.02
77 days
1806 N Bel Aire Dr
Burbank, CA 91504
4
3
2,465
$2,199,000

-4.3%

$892.09
80 days
3316 Viewcrest Dr
Burbank, CA 91504
4
5
5,317
$5,995,000

-7.7%

$1,127.52
83 days
1119 N Buena Vista St
Burbank, CA 91505
2
1
684
$765,000

-6.6%

$1,118.42
95 days
507 N Parish Place
Burbank, CA 91506
3
3
1,923
$1,240,000

-0.8%

$644.83
95 days
1333 N Beachwood Dr
Burbank, CA 91506
3
2
1,470
$1,100,000

-4.3%

$748.30
95 days
338 S Reese Place
Burbank, CA 91506
3
2
2,492
$1,495,000
$599.92
101 days
1236 E Elmwood Ave
Burbank, CA 91501
4
4
3,612
$1,645,000

-3.2%

$455.43
116 days
565 E San Jose Ave #103
Burbank, CA 91501
3
3
1,279
$799,000
$624.71
119 days
Burbank History
Incorporated in 1911, Burbank started as an aviation technology hub, home to both Lockheed and Boeing. This primed the neighborhood for economic success during World War II, when the existing infrastructure allowed it to kick production of planes - for combat as well as commercial use - into high-gear. The Hollywood Burbank Airport opened in 1930, and has remained a strong economic presence in the area. In 1940, Walt Disney expanded into Burbank and ushered in a new era for the city.
You can practically watch Burbank's history unfold on film. Disney wasn't the first to see the potential in Burbank: as early as the 20's, film studios and media companies were buying property and setting up shop in the neighborhood. The neighborhood's prime real estate for studios led, naturally, to it playing a major role in the developing art of cinema: from Casablanca to Bonnie and Clyde to Apollo 13 and Pirates of the Caribbean. Burbank's shopping mall, Burbank Town Center, has showed up in movies and shows like Bad News Bears and Desperate Housewives. The Safari Inn Motel, the Burbank Community Center and San Fernando Boulevard are among the many local sites that can be spotted on film. Burbank is also home to the Martial Arts History Museum, which pays tribute to the long history of Asian culture on cinema. For a deep dive into Burbank history, the Gordon R. Howard Museum has you covered.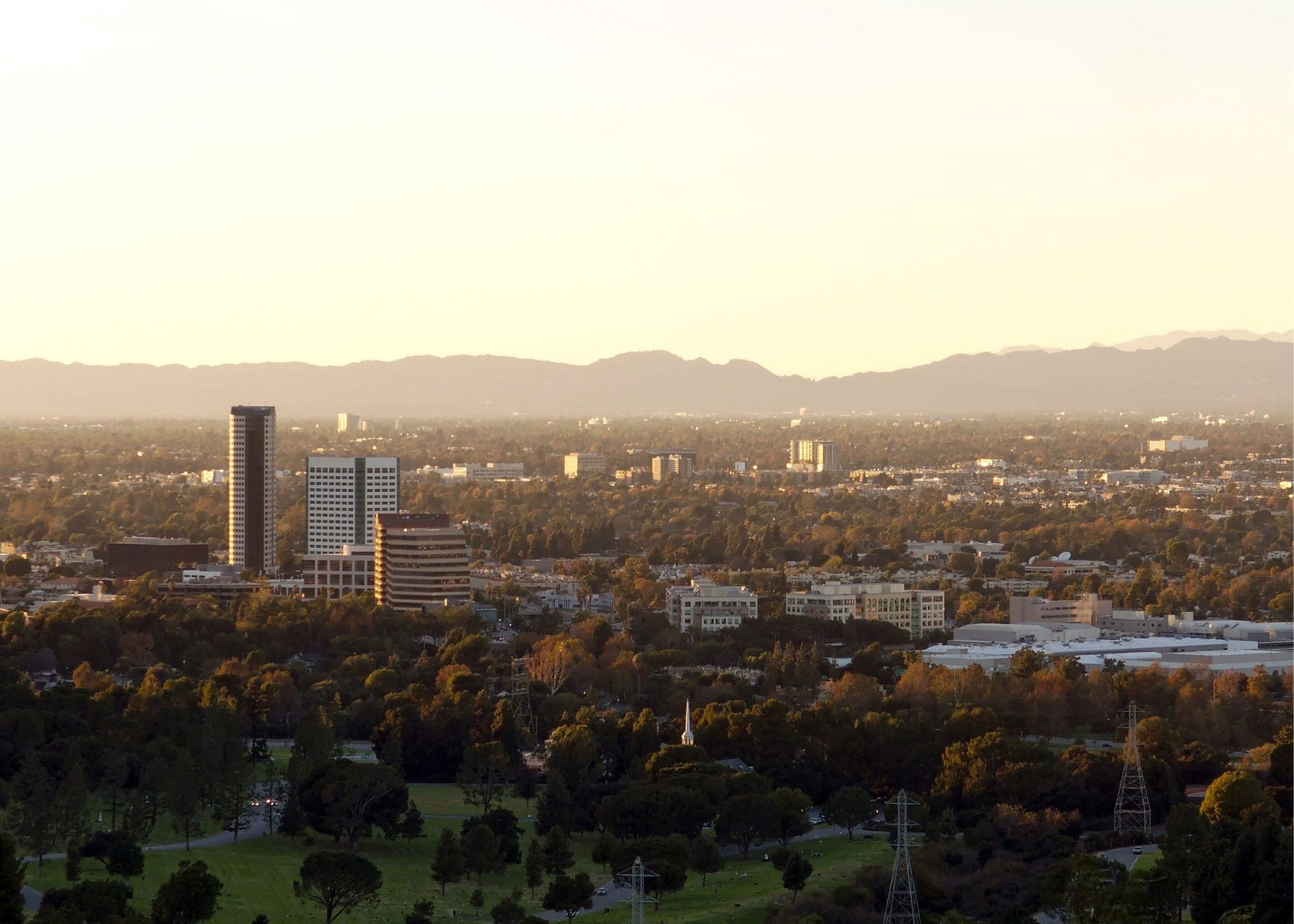 Food + Drink
Burbank is not L.A's mecca for fine dining. It's also not the place to find the hippest gastropubs or avant-garde cafes. It does have a little of both, but the Burbank scene is, to be honest, much more fun: vintage cafes, kitschy "Mom and Pop" diners, and old-school burger shacks. In fact, one place you'll regularly see touted as a must-eat in Burbank is none other than Bob's Big Boy. This location was established in 1936, making it the oldest in the world, and has a huge, iconic, neon sign. Pinocchio Restaurant follows suit but makes it Italian: with its classic red-and-white checkered tablecloths and huge portions of Italian comfort food offered at budget prices, it's been a neighborhood favorite since the 60's. Tony's Italian Deli, established in 1979, has subs that put Subway to shame, while Chili John's, established in 1946, specializes in one thing: chili, done perfectly. Angelinos flock from all over to get breakfast burritos at Corner Cottage, but if you prefer a sweet breakfast you'll find what you're looking for at Bea Bea's, a 70's-inspired diner that offers wild pancake flavors like Thai tea. When you do want to dip your toes into fine dining, you can get it at Commonwealth or Castaway, and little cafés like Olive and Thyme offer a sweet middle ground between paper napkins and polished silver.
Nightlife in Burbank is varied, with craft cocktails, comedy shows, karaoke and dive bars all competing to be your choice for the evening. Tony's Darts Away, The Snug and Corner Bar are all low-key local favorites for pool, darts, jukeboxes, and sticky floors. Sardo's Grill and Lounge has karaoke every night, while Tinhorn Flats is an old-fashioned Wild West saloon. For a high-class evening, you can sample some of the hand-picked wines at Lune Vine Wine Bar or a modern take on an Old Fashioned at Chained Rabbit Craft Pub. Several Burbank bars are notable for their history as filming locations, including the Blue Room (Memento, Heat), which stands on its own as a great cocktail bar. Flapper's Comedy Club and Restaurant is a local favorite for stand-up, while the iHeartRadio Theater is a popular venue for live music.
Neighborhoods
While Burbank has many small enclaves and communities, it can generally be divided into two regions: the Flatlands and the Foothills. These can be further divided into four major districts: Magnolia Park, Downtown Burbank, the Media District and the Airport District.
Magnolia Park is where you can find some of Burbank's most unique shops. Comic book lovers can spend hours at House of Secrets or Emerald Knights Comics & Games - the latter is open 24 hours a day! Emerald Knights is also a go-to for Magic: The Gathering, while House of Secrets specializes in vintage memorabilia. If you're more interested in films, Book Castle-Movie World should be on your roster - it's a great place to find rare, vintage movie posters to decorate your new home. Going for a more goth vibe? Dark Delicacies welcomes you with open bat-wings, and Bearded Lady Vintage and Oddities has freaky ephemera you definitely won't find at Urban Outfitters. The list of vintage and consignment clothing stores is too long to linger on but stand-out shops include Pinup Girl Boutique and Playclothes. And if all that shopping leaves you with a light wallet, you can still shop like royalty at Atomic Records, where prices for LPs can start under a dollar. It's all situated on quaint, tree-lined, wide and walkable streets that evoke classic Americana.
For food and nightlife, Downtown Burbank is the place to go. A pedestrian oasis, this ultra-walkable strip of San Fernando Boulevard is just begging to be your date night destination: plan a pub crawl, wine crawl, foodie crawl, or boutique crawl - or your preferred combination of all the above. The Starlight Bowl is a beloved neighborhood staple for live music and community events, most of which are family-friendly and affordable. The Starlight Bowl shines especially bright on the Fourth of July, with a huge laser light show. Downtown Burbank is also home to the largest IKEA in North America: talk about making it easy to move!
The area around the Hollywood Burbank Airport is known, naturally, as the Airport District. While some urban airports create a sort of dead zone around them, a mile-radius wasteland of hotel airports and Buffalo Wild Wings (no offense to BWW stans!), the Airport District is lively and invigorated by the constant influx of tourists and travelers. Passengers flying into Burbank don't have to go far to find lush greenspaces (Brace Canyon Park and Debell Golf Club), a comedy club (The Bunker), and museums (Burbank Aviation Museum and Bearded Lady's Mystic Museum).
The Media District's name gives it away: this section of Burbank is home to some of the major film and television studios, including Warner Bros, Disney, and the CW Network (we see you, Riverdale fans), as well as the iHeartRadio Theater. At the Warner Bros.' lot, you can tour Stars Hollow or Central Perk before interacting with props from Harry Potter and Batman. Sony Pictures, formerly MGM, offers a peek into film history with scenery and memorabilia from The Wizard of Oz and Singing in the Rain, alongside contemporary behind-the-scenes looks at shows like Breaking Bad. Living in Burbank, you can also casually attend a live television taping on any old Wednesday or Saturday - for free!
You can break down these four major areas into their smaller enclaves: there's Chandler Park, Rancho District and Rancho Adjacent, Burbank Hills and Starlight Hills and more. Some neighborhoods offer killer views; others boast proximity to the area's best schools. Rancho Park has properties with enough space to keep horses, while downtown Burbank offers budget-friendly apartments for city-lovers. You can choose to live right next door to Nickelodeon, or have Stough Canyon Nature Center as your backyard. Whatever your fancy, there's a neighborhood that suits it!
Let's chat about Burbank Real Estate