Joseph Gordon-Levitt's Restored Pasadena Gem
Posted by Dave Robles on Wednesday, May 17, 2023 at 9:00 AM
By Dave Robles / May 17, 2023
Comment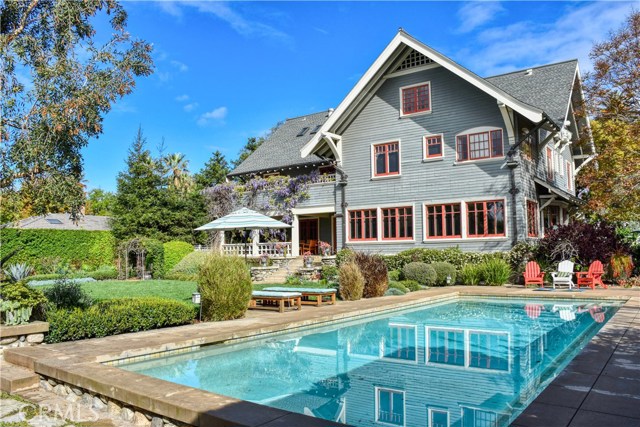 An impressive Craftsman-style mansion located in Pasadena exchanged hands 2020 for a substantial sum of $4.6 million. However, the identity of the buyer, the prolific actor and filmmaker Joseph Gordon-Levitt, remained undisclosed until recently due to the house being mostly unoccupied and undergoing gradual renovations for the past three years.
The mansion was constructed around 1906 and bears the signature of renowned local architect Frederick L. Roehrig, who also designed the esteemed Castle Green, a national historic landmark in Pasadena. Notably, the completion of Gordon-Levitt's new residence coincided with another Roehrig mansion nearby, which currently belongs to the well-known "Big Bang Theory" star Simon Helberg. Throughout its lengthy existence spanning 117 years, the mansion has changed ownership a mere six times, with the previous instance occurring back in 2001 when it was acquired for $2 million.
Occupying nearly 8,000 square feet, the spacious antique house comprises seven bedrooms and 6.5 baths. It unveils a trove of stunning woodwork, generously proportioned hallways, and various intriguing hidden corners. Behind its understated blue facade, accentuated by touches of red and white, the structure extends across three full floors and a basement level, housing a billiard room and wine cellar.
While purists of architecture may express discontent over certain contemporary modifications to the interior, such as the fully renovated kitchen and master bath, there is no denying that the mansion now offers the essential luxury amenities that discerning buyers in this price range demand. Remarkably, original features like wainscoting and quarter-sawn oak hardwood floors are still present, preserving the historical charm.
Joseph Gordon-Levitt, a native of Los Angeles, had long made his residence in the Silver Lake neighborhood, where he owned a four-bedroom home for nearly 15 years. Renowned for his notable performances in "3rd Rock From the Sun," "500 Days of Summer," and "Inception," the actor is happily married to tech entrepreneur Tasha McCauley. Interestingly, McCauley's mother is an adopted daughter of the late billionaire real estate developer Melvin Simon.